Gwen Stefani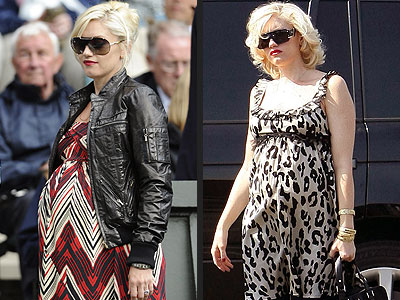 Okay, yes I know, Gwen Stefani isn't, at the time of this post, pregnant.
However the first Bump Wear Project celebrity fix has to be Gwen. Why? Well she is one bump wearing lady who NEVER compromised her own sense of style because of her bump. Now don't get me wrong, I'm not saying when she was 9 months gone she strutted about the house in platforms and animal print combos (although she may have) but she wasn't wearing bows and lace either (unless they were just the detailing of some haute couture piece!).
Gwen has been lucky enough to create her own L.A.M.B fashion label – this equates to knowing what she likes, and liking what she wears. Her style is eccentric, it reminds me of a mixture of Vivenne Westwood and vintage glamour. Mixing the two together, and you have a very kooky look, which Gwen managed to pull of during her pregnancy.
So even if Gwen's style isn't for you. Hats off to the lady. No compromises.